Welcome to Eye Doctors ● Elgart Gordon & Associates
Serving Old Saybrook, Deep River, and Guilford, CT
– At Eye Doctors, we deliver outstanding family eye care using the most advanced technologies and practices. Our doctors and staff are committed to serving the needs of our patients with professionalism and T.L.C. Visit us in Old Saybrook, Deep River, and Guilford, CT for your next eye exam and to choose your new pair of eyeglasses.
– We are dedicated to be a source of knowledge and information that promotes eye health in our community and in global outreach programs.
– Additionally, we proudly present a fabulous array of exciting eyewear chosen to suit every taste.
What Our Patients Have to Say
I visited the Old Saybrook, CT branch of Elgart Pinn Gordon & Elgart for an eye exam as I needed new contacts. The office staff was great. Upon entering the space I was warmly greeted by the receptionist and quickly...
Professional, high tech, accommodating, friendly. A very positive experience....
I've been going here since I was born! This is the best eye Dr, they are always willing to help in any way they can. Bob Monya and all the other Dr's are fantastic! I cannot recommend them enough!...
Everyone at The Eye Doctors is super nice and helpful. They have squeezed me in for an adjustment right before closing when it was the only time I could get there. I would recommend them highly!...
I am the Founder and Executive Director of Artists for World Peace. Carol has been our lead eye doctor at our free eye clinic we opened, with Carol's expertise, in 2014. Since then Carol and our medical team have taken...
Eye Care Services
In addition to taking care of your visual needs with glasses and contacts, our doctors and staff are dedicated to making sure that your eyes are healthy and that they stay that way. After all, healthy eyes are the foundation of great vision.
Exciting Eyewear!
You'll find one of the largest and most interesting selections in the region in our optical departments. Drop by anytime to shop…no appointment necessary. From traditional styles to the very unique high fashion, you'll see and look your best!
Insurance We Accept
A vision insurance policy is not the same as health insurance. We accept a number of medical and vision insurance plans to help cover the cost depending on your individual needs. Make the most of your plan by understanding your particular coverage.
Daytona retinal scan technology
This amazing device allows your eye doctor to see retinal, optic nerve and cornea structures not visible through regular exam methods by using light to provide a high-resolution scan meant to pick up early signs of structural change or disease.
This allows your eye doctor to see even the smallest changes in the retina and optic nerve with greater accuracy, and much higher definition, making early and accurate detection of common sight-threatening eye conditions such as glaucoma, macular degeneration, and diabetic retinopathy, easier than ever before.
We use iCare Tonometers for easy, accurate and patient-friendly PUFF-FREE intraocular pressure measurement.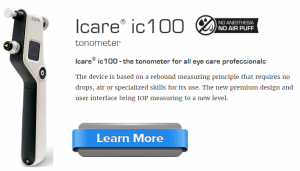 iCare tonometers are based on unique, patented rebound technology, in which a very light and small probe is used to make a momentary contact with the cornea. For more information on the Icare® ic100 Tonometer click here.
Nov 27, 2017
The New Year is coming and many people include healthier eating and exercise in their resolutions for the year ahead. Well other than weight loss and overall health and disease-prevention, a healthy diet and regular exercise can protect your eyes and your vision. In particular, there are certain vitamins and...
Nov 13, 2017
November 14th is World Diabetes Day. This year, the theme of World Diabetes Day is women and diabetes - our right to a healthy future. The goal of this campaign is to promote awareness of the importance of equal and affordable access for all women, whether they are at risk...